Metal Detectors
Information

| | |
| --- | --- |
| Nuggets of News Blog | |
Thursday, September 28 2017
For those of us with a strong dose of gold fever, the price of gold doesn't make much difference. Most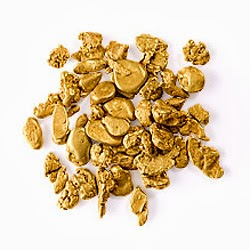 prospectors seem to get much more pleasure from the process of finding the gold rather than selling it. It's the thrill of the hunt! Plus, gold remains a sound investment over time as a hedge against inflation and instability.
You might recall when gold peaked in August 2011 at $1890 per ounce. That was a very exciting time in the news— media hype always follows whenever gold takes a strong rise or dips. Over the last few years, the price has come down and is averaging around $1200 per ounce. But you might be wondering where the price is going from here. If you take a look at the chart of gold prices, it can be an indicator of what's to come.
The key to the chart is recognizing resistance levels and support levels (high and low points). When a price bottoms out, it establishes a new floor. When it breaks below that floor it is considered "bearish" and likely to drop further since it broke a supporting base price. When it breaks above a resistance level, it indicates there is strong demand which could push the price to higher levels.
Between 1978-1980, gold prices went from $172 to $830 per troy ounce. In 1982, gold prices dropped back to $328 an ounce. It was not until 1999 that the price hit the low of $253 after the peak in 1980. Never having broken that price floor, it entered a recovery where it eventually broke above the high set in 1980, pushing to $944 an ounce by February 2008. Later that same year, in October, the price hit just under $830 before skyrocketing to that crazy high of $1890 per ounce! Since then, the price has dropped from its high just as it did in the early 1980s. Gold dropped to a new floor of $1066 at the end of 2015, before bouncing back to its current levels. Since the new floor was established, it has not been broken. Instead, the price climbed to $1340 per oz. by August 2016, dropped but stayed $100 above the prior low to $1163 and has since bounced back to around $1200. If the price continues to set new highs, even if it drops thereafter and continues to set higher lows on its way up, it is considered "bullish" or positive.
Why is the price of gold so important? Maybe it's not to the average prospector, but the price of gold has a direct impact on the level of involvement in prospecting. The next sharp rise in price might bring with it additional involvement from more people. The treasure seeker in all of us might just kick in, bringing more families out to the gold fields. Good luck!